Surecom SR-328 Duplex Repeater Controller
Radio Range Extender
The SR-328 is a multi-function and cheaper device that connects any handheld or mobile radio.
By equipment and so on our assemble the build, the new generation trunk-line board, the internal structure design are finer, the outward appearance is more attractive. Besides can provide a the basic repeater function which has following the receiver transmitter, furthermore has the Simple connection, provides the more ideal 2-way radio conversation region for you, causes you maintains the relation in the bigger operating region.
This is a radio duplex repeater controller. It is an easy of operation and cost effective and highly flexible platform for setting up bi-direction band duplex repeater with mobile radio and handheld radio. .
The SR-328 has 2 audio ports input and out , they are used to connect with mobile and handheld radio. DTMF remote control function with password protection is available in the . User can control the repeater ON or OFF remotely by DTMF. Multi-LED display 2 of radio status , and build-in battery Level.
-Works with most popular handheld radios
-Multi- LED display 2 radio status , And controller Battery Level 
-Real time duplex repeater with link radio 
-Allows user to change the DTMF remote control password by radio  
-Operates on both build-in Li-ion battery 72 hours long life operation
-External DC 5~24V power supply 
-DTMF remote control repeater function ON and OFF with password protection
-Professional manufacturer low power consumption .

When the radio units are connected, the received signal on a radio unit will be real time transmit on the other radio unit. ,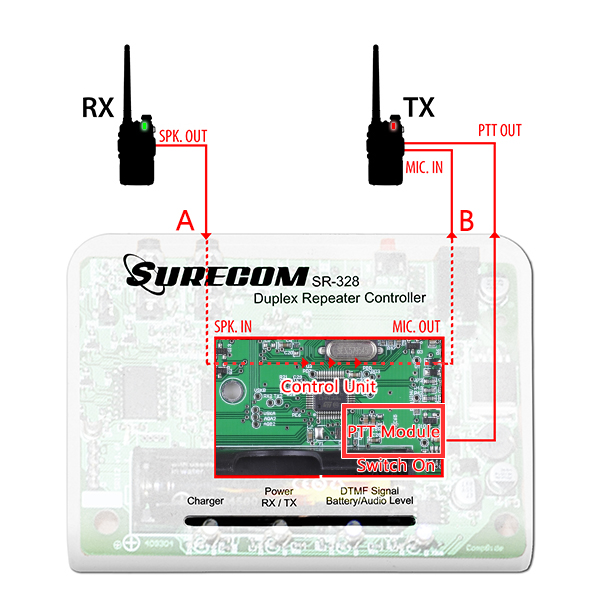 INPUT of radio band

A

 

B

(RX )

(TX)

VHF

>

VHF

VHF

>

UHF

UHF

>

VHF

UHF

>

UHF

A Input for Radio Received
B Input for Radio Transmit

Repeater work:
1, The frequency difference between the upper and lower row forwards (and conventional repeater), A machine as a signal uplink receiver, B machine as a signal downlink transmitter. In order to achieve the purpose of the relay.
 

Not have a duplexer: two hand-held units connected to a relay station, such as unparalleled workers, two hand sets should be separately using two antennas! Two antennas should be perpendicular to erect! And try to pull the distance between the two! At least not less than 1-5 metre (suggest : the farther the better two distance are Two antenna .)
 

Have a duplexer: purchase the corresponding frequency / power duplexer using "the joint " of the two hand sets connected to the antenna output terminal of the duplexer transmitter and receiver, respectively, set the frequency corresponding to the handheld units (frequency should be consistent with the duplexer). Under diplexer case, the relay station as long as the need to connect an antenna! And no special attention when erecting antennas !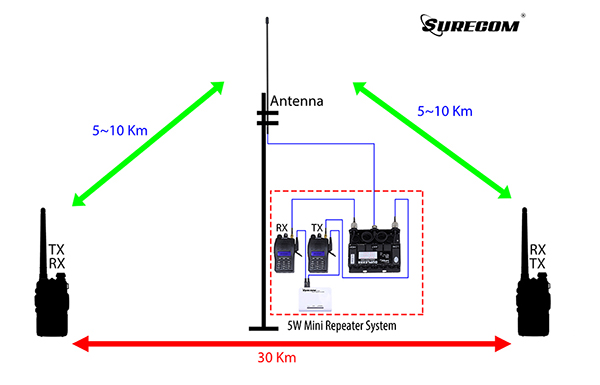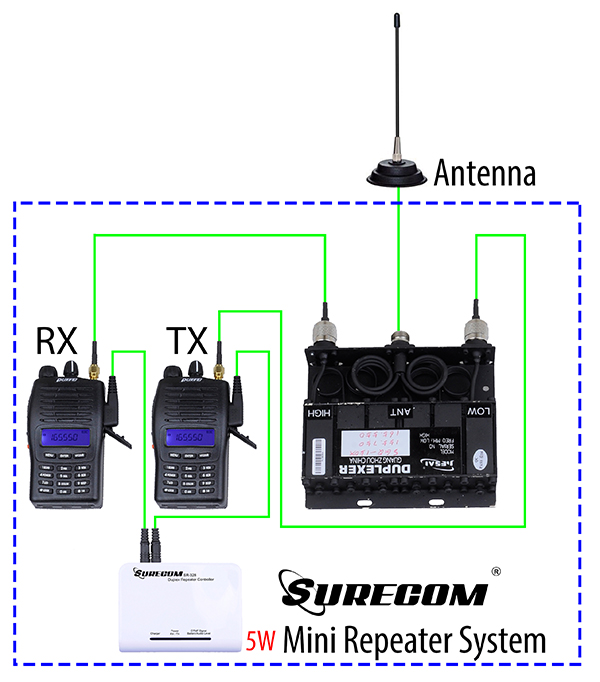 e.g. This SR-328 connects Radio and Duplexer


Features:
Connector Radio unit:

 2

Build in 3.7V Li-ion Battery:

 900maH

Ext.DC Jack 5.5/2.1mm:

 DC+5V~24V
Standby Time:
180hours
Standby Current:
4mA
Work Current:
20-30mA

SIZE:

110×80×25mm
Operating temperature:
-10°C to +50°C
 
 
 
LED DISPLAY OF SIX
 
 
 
Charge
Red
Charge
Blue
Full
 
 
 
Power /TX Status
Red flash
Power on / standby
Blue
Radio A RX > B TX
blue flash
Sleep mode
 
 
 
Battery Life
Yellow LED ****
100%
Yellow LED ***
80%
Yellow LED **
50%
Yellow LED *
40%
Yellow LED * Flash
10-30%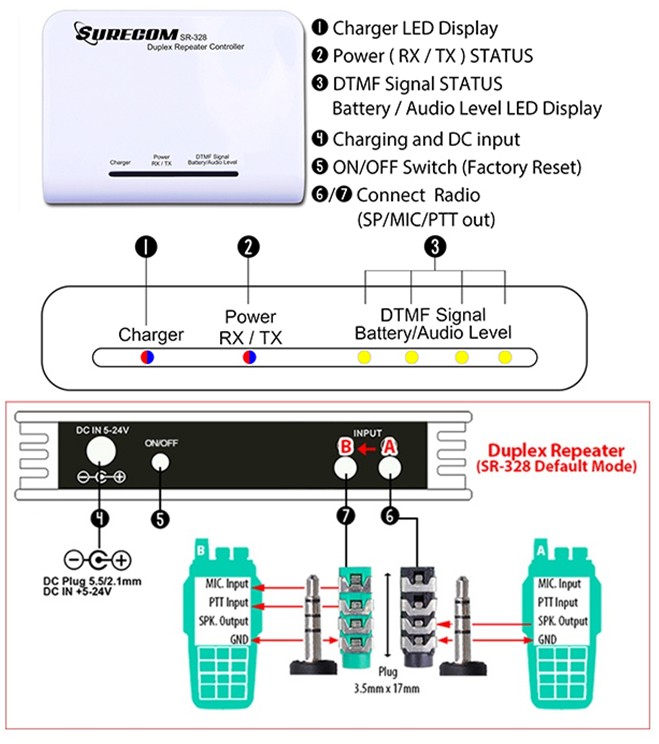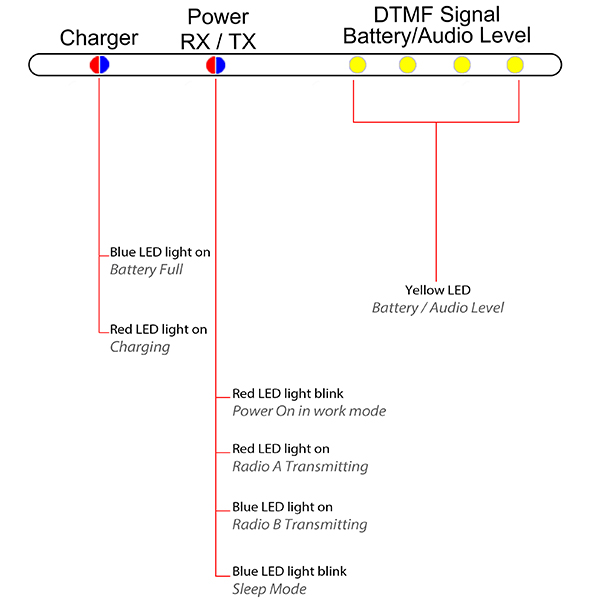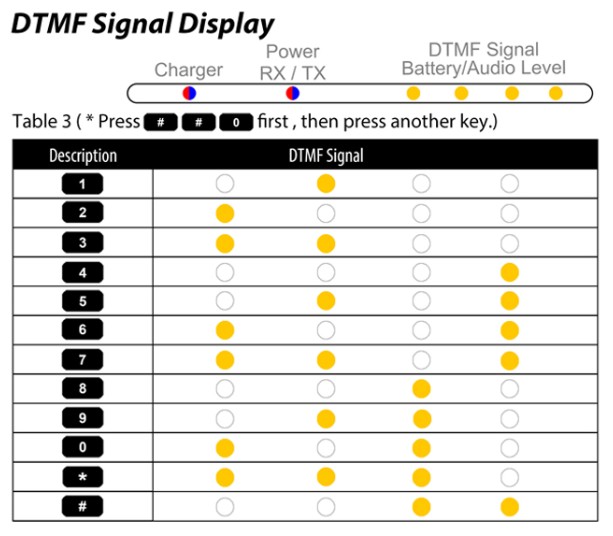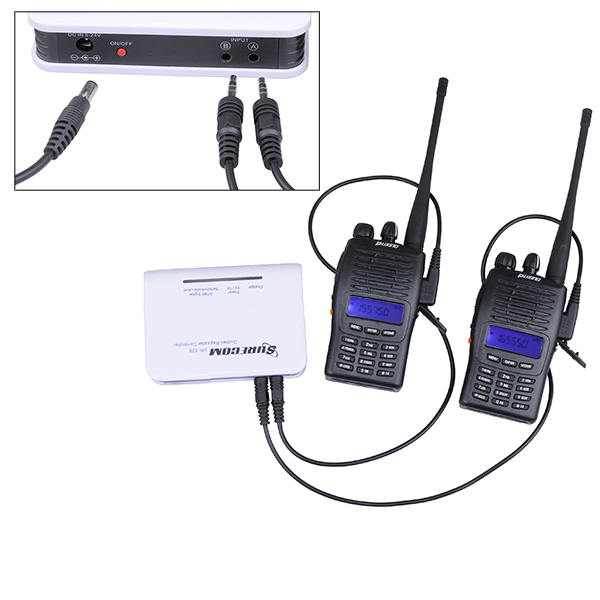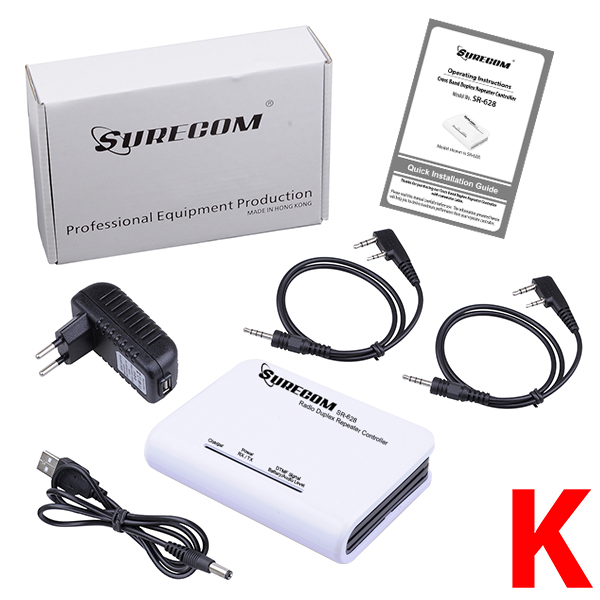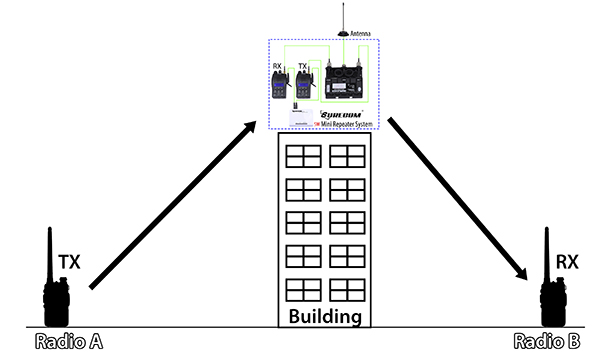 1 x SR328 Duplex Repeater Controller
1 x 100-240V power supply unit
2 x Kenwood / CHINA Radio connect cable
---